About ACELG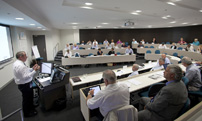 The Australian Centre of Excellence for Local Government (ACELG) is a leading national local government research and policy institution. ACELG's vision is: World-class local government to meet the emerging challenges of 21st century Australia.
The Australian Government has contributed $8 million in funding for the Australian Centre of Excellence for Local Government. The Centre's mandate is to enhance professionalism and skills in local government, showcase innovation and best practice, and facilitate a better-informed policy debate. Read more »
The Centre will:
Build on existing local government programs and networks
Encourage innovation and best practice across local government
Foster good governance and strategic leadership
Support action to improve local government workforce capability to address skill shortages and attract and retain skilled staff
Promote new and improved training and development programs and
Stimulate and inform debate on key issues for local government in coming decades.
 
Advisory Groups and Committees
Annual Reports
Memberships

Board Meetings
| Date | Location | Minutes |
| --- | --- | --- |
| 6 December 2013 | University of Technology, Sydney | PDF |
| 4 October 2013 | LGPro, Melbourne | PDF |
| 7 June 2013 | Adelaide | PDF |
| 22 March 2013 | Canberra | PDF |
| 17 December 2012 | University of Technology, Sydney | PDF |
| 12 October 2012 | Local Government Association of Queensland, Brisbane | PDF |
| 13 July 2012 | Edith Cowan University, Perth | PDF |
| 30 March 2012 | Parliament House, Hobart | PDF |
| 15 December 2011 | University of Technology, Sydney | PDF |
| 9 September 2011 | University of Canberra, Canberra | PDF |
| 15 July 2011 | Teleconference | PDF |
| 29 April 2011 | University of Canberra, Canberra | PDF |
| 10 December 2010 | University of Technology, Sydney | PDF |
| 8 October 2010 | Teleconference | PDF |
| 29 July 2010 | University of Canberra, Canberra | PDF |
| 30 April 2010 | ANZSOG, Melbourne | PDF |
| 14 December 2009 | University of Technology, Sydney | PDF |
| 1 October 2009 | University of Technology, Sydney | PDF |