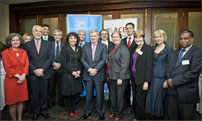 The Australian Government has contributed $8 million in funding for the Australian Centre of Excellence for Local Government. The Centre's mandate is to enhance professionalism and skills in local government, showcase innovation and best practice, and facilitate a better-informed policy debate.
The Centre will:
Build on existing local government programs and networks
Encourage innovation and best practice across local government
Foster good governance and strategic leadership
Support action to improve local government workforce capability to address skill shortages and attract and retain skilled staff
Promote new and improved training and development programs and
Stimulate and inform debate on key issues for local government in coming decades.




At the ACELG Launch: (L-R) Margaret Reynolds, Anthony Albanese, Maxine McKew and Ross Milbourne.
ACELG's activities are grouped into six program areas:
Advisory Groups and Committees
Annual Reports