CLAIR Forum: Revitalise Your City
CLAIR Forum: Revitalise Your City
Thursday 27th November at 5:00am
More than forty local government professionals from Sydney and regional NSW benefited from a diversity of presentations at a forum co-hosted by The Japan Local Government Centre (CLAIR) and the ACELG on Thursday 27 November.
Held at the University of Technology, Sydney, the theme of the 2014 CLAIR Forum was 'Revitalise Your City' and aimed  to encourage an exchange of ideas between local governments of Australia and Japan about the sustainability of regional places.
The forum was facilitated by Centre Director Associate Professor Roberta Ryan and opened by the Director of CLAIR Sydney Mr Yasu Tanbabe. 
Senior staff and researchers from Australian and Japanese local government discussed how regional centres can promote local products, as well as attract jobs, new residents and investment by maximizing regional characteristics and providing appropriate infrastructure and services. 
Forum speakers and topics were: 
Hiroaki Seino - Assistant Director, CLAIR Sydney (from Aomori Prefecture): Local tourism and revenue 
James Walker - Alderman at Clarence City Council (Tasmania): Economic development from the Clarence region
Noriyuki Shiba - Assistant Director, CLAIR Sydney (from Wakayama Prefecture): Tasting Wakayama
Misa Hirasawa - Assistant Director, CLAIR Sydney (from Hiroshima Prefecture): Industry innovation in Hiroshima
Alex Gooding - ACELG Associate: Local government growing regional Australia 
Hiromi Hakuta - Assistant Director, CLAIR Sydney (from Shikaoi town, Hokkaido): Making rural areas attractive.
 
Provisional findings from an ACELG research partnership with Regional Capital Australia were also presented.  
A/Prof Ryan commented on the diversity of knowledge offered at the Forum: "There was an incredibly interesting range of presentations that will greatly contribute to the discussion about the nature of regions and how they can be reinforced through interventions that are strategic, dynamic and collaborative. 
"ACELG is committed to current research that emphasise the value of regional strengths and local leadership. The Forum has shown how tremendously important the issue is in both countries, and I again thank CLAIR Sydney for their positive efforts in fostering this exchange."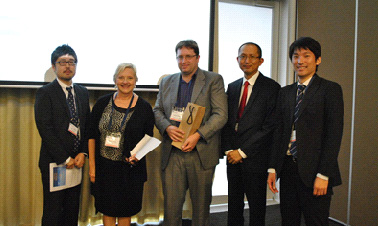 2014 CLAIR Forum presenters and facilitators (L-R) Hiroaki Seino - Assistant Director, CLAIR Sydney; A/Prof Roberta Ryan, ACELG Director; Alderman James Walker, Clarence City Council; Yasu Tanabe, CLAIR Sydney Director; Noriyuki Shiba - Assistant Director, CLAIR Sydney.
Inaugurated in 1995 the CLAIR Forum is an annual one-day seminar organised and sponsored by CLAIR Sydney  to provide an opportunity for Australian and New Zealand government officials and academics to exchange knowledge and ideas with other peers and visiting experts from Japan on topics of mutual interest. 
More information about CLAIR Sydney and previous Forums here.
 
 
 
 
2014 CLAIR Forum participants
 
2014 Clair Forum presenter Misa Hirasawa - Assistant Director, CLAIR Sydney
 
 
 
 
 
 
A/Prof Ryan facilitates the panel discussion
 
Example of innovative tourism – crop 'painting' from Aomori Prefecture
 
« Back to Events