Local Government Growing Regional Australia
Local Government Growing Regional Australia
ACELG has published new research entitled 'Local Government Growing Regional Australia' that will bring new understanding to the role of local government in growing regional capitals and regions through enhanced governance and leadership.
Conducted in partnership with Regional Capitals Australia (RCA), the research identifies the factors contributing to building strong sustainable regional capitals and regions. 
ACELG Director, Associate Professor Roberta Ryan commented: "The research links strongly with our continuing and keen interest in supporting and recognising the incredible work that regional and rural, remote and Indigenous local governments do in supporting the national economy and local social capital. We welcomed the opportunity to partner with RCA on this important research."
The report finds that a new way of thinking about regional economic development focuses on tapping under-utilised potential in all regions to enhance competitiveness. Regional economic development can also be more effective when the approach works closely with other sectors and governments. This contrasts with the top-down, centralised approaches of the past that emphasise subsidies and compensation for regional 'disadvantage.'
The fundamental on-the-ground knowledge and flexibility of local government, the report argues, is essential for adapting to changing economic conditions.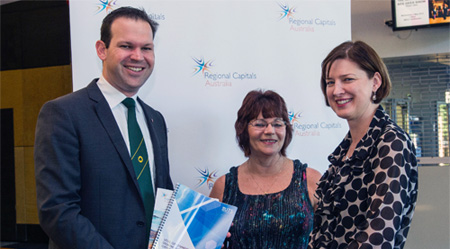 Senator Matthew Canavan, Senator for Queensland (LNP); Dr Robyn Morris, Australian Centre for Excellence in Local Government; The Hon Julie Collins MP, Shadow Minister for Regional Development at Regionalism 2.0, the second national conference of Regionalism 2.0. Image supplied by RCA.
The report includes case studies from of the regional capital councils of Geelong (VIC), Geraldton (WA), Mackay (QLD), Wagga Wagga (NSW) and Launceston (TAS) and a thorough review and analysis of relevant literature.
RCA Chair and Mayor of Wagga Wagga City Council (NSW), Cr Rod Kendall said: "We know our regional capitals have untapped potential. The invaluable insight gained in these reports helps us understand how local government play a leadership role in building sustainable regional capitals in a growing Australia."
The report was officially launched at the RCA conference Regionalism 2.0 in Mackay, Queensland on Thursday 26 March by Dr Robyn Morris, a Centre Associate and principal project researcher.
The ACELG and RCA will now encourage a dialogue across governments about the key issues raised in the report with particular regard to the 'Future role and contribution of regional capitals to Australia' inquiry announced recently by the Federal Government. The research will also be presented at the ALGA 2015 National General Assembly of Local Government in June by both RCA and ACELG.
Downloads
Local Government Growing Regional Australia: Volume 1 – Report
Local Government Growing Regional Australia: Volume 2 – Case Studies and Resources
Leading image: Geelong Waterfront, supplied by the City of Greater Geelong.
« Back to News